Turning facts into intelligence
In a society where information makes things complicated because, for example, of the scourge of fake news, Oricon will earn the trust of society by turning facts into intelligence from an objective and fair standpoint and disseminating it widely.
By doing so, we aspire to be a company of high social value that contributes to the realization of affluent lifestyles and the development of various industries.
Our
Business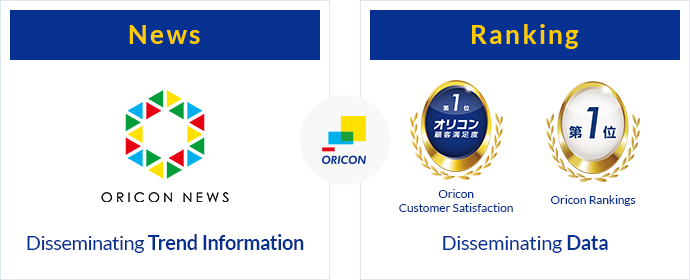 Oricon is a research company that provides news and rankings from an objective and fair standpoint. Our aim is to help achieve an information society driven more strongly by intelligence. To make this happen, we earnestly engage with society and accurately disseminate trend information and data through the processes of thorough verification research and meticulous aggregation and analysis, whereby providing awareness and insights to organizations and individuals.
Description of
Businesses

[Communication Business]
Operating Web media 「ORICON NEWS」「ORICON Customer Satisfaction」 & a variety of websites
PR(Public Relations)consulting
Web marketing consulting

[Data Providing Business]
Providing marketing data in entertainment businesses
Providing music database for EC sites & broadcasting stations

[Mobile Business]
Providing mobile contents

*From April 2020, withdrawal from Publishing Business
Corporate
Profile
Company Name
Oricon Inc.
Securities Code
4800 (Tokyo Stock Exchange, Standard Market)
Address
6-8-10 Roppongi Minato-ku, Tokyo JAPAN 106-0032
MAP
Established
October 1, 1999
Capital
JP¥1,092,450,000 (as of March 31, 2023)
Directors &
Executive Officers

[President]
Koh Koike

[Vice President]
Toshiya Nabata

[Directors]
Takeaki Harada
Yoshihiko Korehisa (Executive Officer)
Seiji Fujiwara (Outside)
Tsunehiro Sasanami (Outside)
Yuki Morikawa (Outside)

[Auditors]
Shinichi Odaka
Satoshi Nishijima (Outside)
Toru Ishijima (Outside)

(As of June 28, 2023)

Employees
189 (without temporary employees, As of March 31, 2023)
Oricon Group
oricon ME Inc.
Oricon Research Inc.
Oricon NewS Inc.
Oricon NEXT Communications Inc.
StayList Inc. (Equity method affiliate)
Banks
Sumitomo Mitsui Banking Corporation
MUFG Bank, Ltd.
Mizuho Bank, Ltd.
Resona Bank, Ltd.
Summary of
Financial
Results
Oricon Inc. & Consolidated Subsidiaries Years ended March 31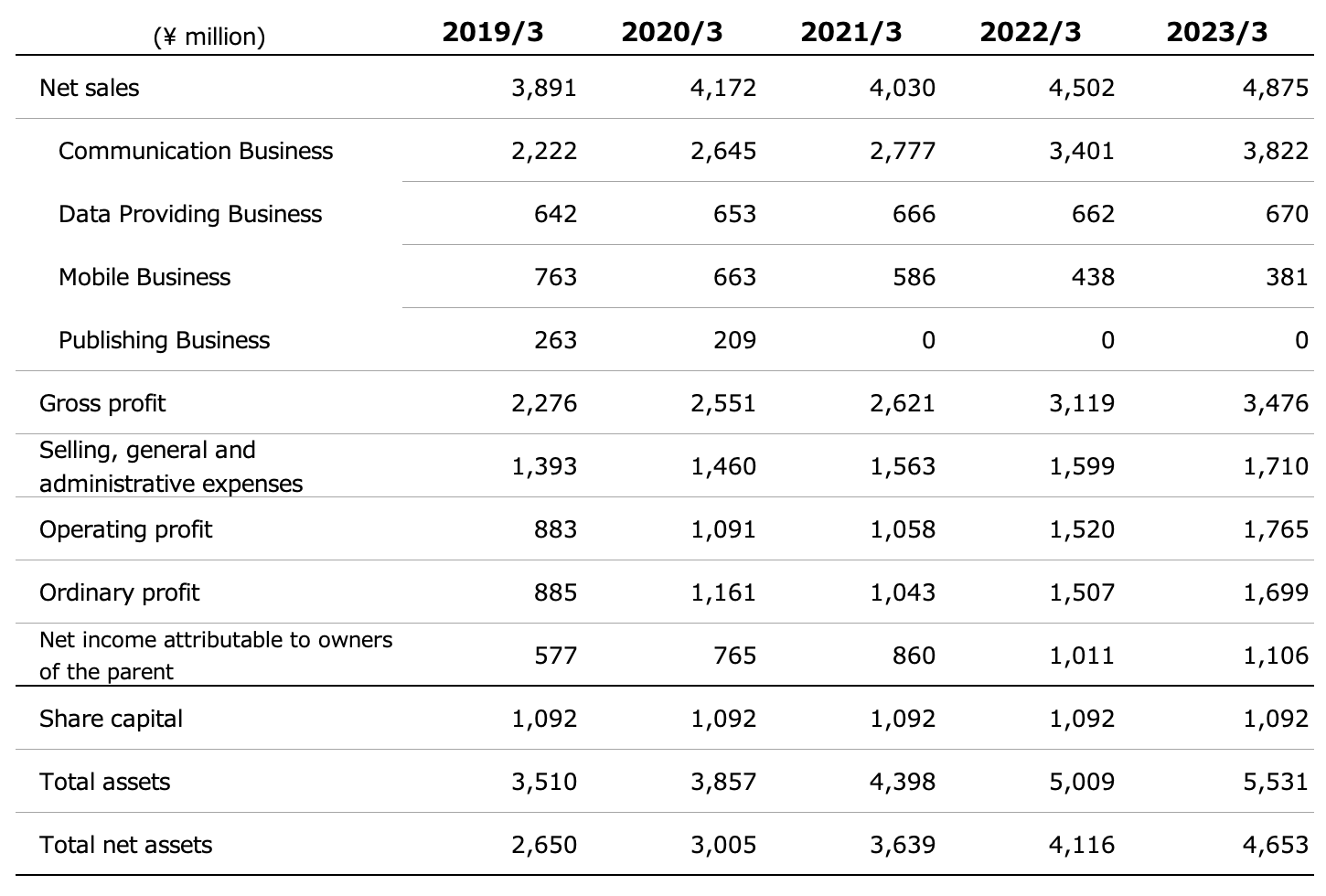 Sales
by Segment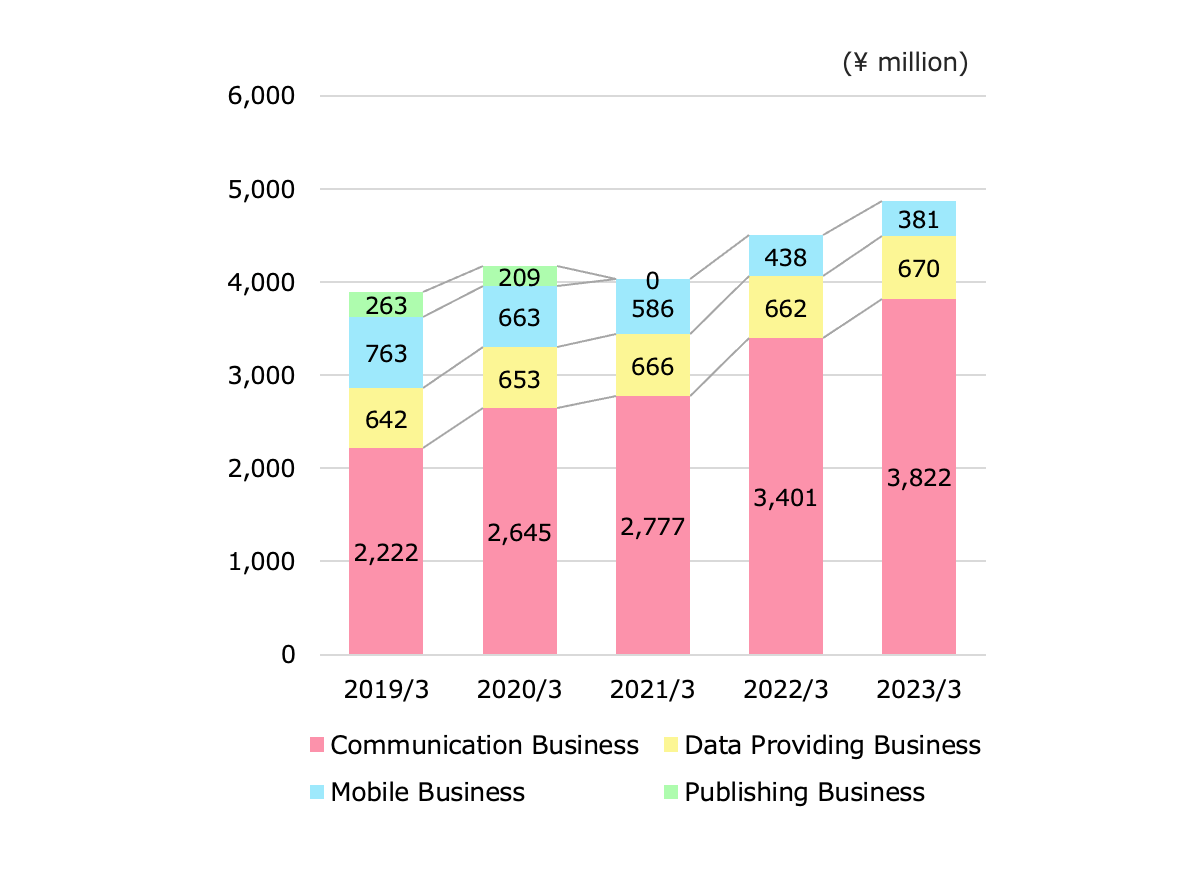 Basic
Information
As of Mar. 31, 2023
Stock Exchange
Listing
Tokyo Stock Exchange, Standard Market
Securities code
4800 (Japan)
Fiscal year
April 1 ~ March 31
Number of share
per unit
100 shares
Common shares
15,123,200 shares
Shareholders registry
administrator
Sumitomo Mitsui Trust Bank, Limited
1-4-1, Marunouchi, Chiyoda-ku, Tokyo
Major
Shareholders
As of Sep. 30, 2023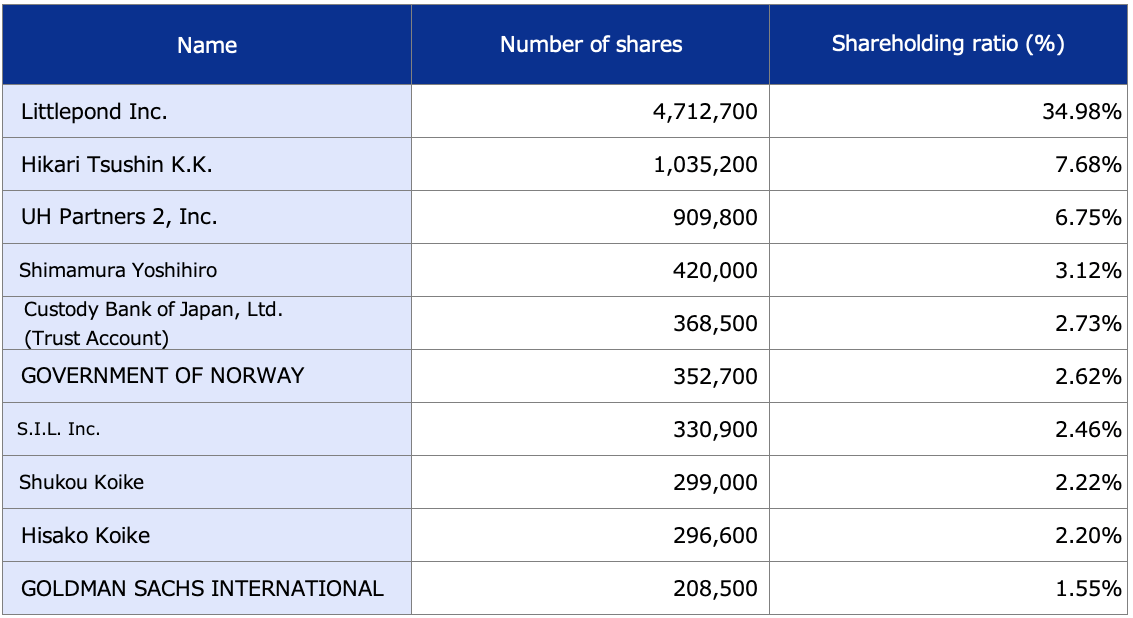 Note: Our treasury stock of 1,649,678 shares is excluded from the above list.
Shareholding ratio shows the ratio against the total number of common shares issued excluding treasury stock.
180,000 Company's shares held by Custody Bank of Japan, Ltd. (Trust Account) as trust assets of the trust for the stock compensation plan for directors and executive officers and the stock compensation plan for employees are excluded from the applicable treasury stock.
Breakdown of
Shareholders
As of Sep. 30, 2023